University Hospital of North Staffordshire staff morale hit by finances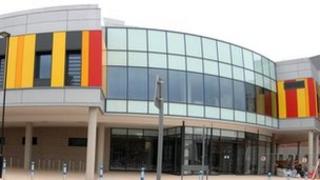 Financial pressures at Stoke-on-Trent's main hospital have put staff morale at an "extreme low", unions have said.
Unison said that workers at the University Hospital of North Staffordshire are "being asked to do more with fewer resources".
The hospital faces a deficit of about £31m by the end of the financial year and announced plans in June to shed 400 jobs to help make savings of £22m.
It said it was developing a staff engagement plan to help boost morale.
The hospital said it was trying to achieve cuts as far as possible by reducing the number of agency staff and removing vacant posts.
"How you can make those savings and continue to deliver services while keeping staff happy is a very difficult juggling act," said Rob Irving from Unison.
"We're also being asked to deliver services based on targets and financial penalties and rewards rather than what is best for patients and I think that does get staff down."
'Improving communication'
The UHNS has written to the government asking for £37m in additional financial support.
Papers from its board meeting last week said the hospital had "received assurances" that some money would be sent to the trust.
Chief Executive Mark Hackett said the hospital had introduced staff awards and was putting together "a five point staff engagement plan" to help boost morale.
He said: "We have the biggest deficit in the country and we've appointed a new team from within the hospital to address that and help staff.
"We want people to be rewarded and recognised for the work they are doing. We're improving communication and getting the staff's ideas on the shop floor about how to address things in the hospital."