Bikers Ride to the Wall to honour British armed forces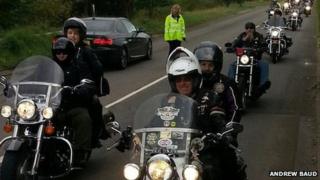 Thousands of motorcyclists have arrived at the National Memorial Arboretum in Staffordshire to pay their respects to fallen members of the armed forces.
Organisers said riders from all over the UK had attended the annual Ride to the Wall (RTTW) charity event.
Since the first ride in 2008, the group said it had managed to raise more than £200,000 for the arboretum.
The main group set off from Drayton Manor Park, about 15 miles (24km) away, led by RTTW founder Martin Dickinson.
He said the event would provide a "moving and emotional tribute and service" to those names listed at the arboretum.
"Year-on-year we have managed to provide an event that is remembered and talked about throughout the year, and in doing so remembers each and every name on the wall," he said.