Stafford Hospital consultation ends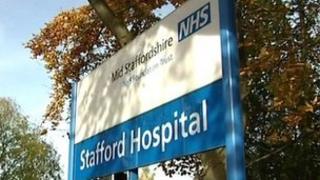 The consultation into the future of healthcare services in Staffordshire has come to an end.
The Mid Staffordshire NHS Trust went into administration in April after a report for health watchdog Monitor said services were "unsustainable".
Trust Special Administrators have proposed moving maternity, critical care and paediatric services to neighbouring hospitals.
The plan has attracted criticism from healthcare groups and local residents.
On Saturday, thousands of campaigners marched in opposition to the plans.
The Support Stafford Hospital pressure group, said the proposals equated to a "downgrade" of patient care.
The administrators will now collate responses from the consultation, including feedback from well-attended public meetings.
They are expected to submit their recommendations to Monitor before the end of the month.
Health Secretary Jeremy Hunt is due to decide whether to adopt them by the end of the year.
'Not financially viable'
The local Clinical Commissioning Group (CCG) has put forward its own views on the future of the trust.
It said, even with the radical changes, the current proposals were not financially viable and it called for an extended five-year plan.
The CCG suggests Mid Staffordshire Hospitals Foundation Trust be dissolved at a point when it is clear who will provide the future services.
The chairwoman of the CCG, Dr Anne Marie Holder, and its chief officer, Andrew Donald, said: "The TSA have not produced a solution that delivers clinical and financial sustainability.
"The CCG is absolutely clear that it is the body responsible for commissioning and therefore will be the organisation charged with commissioning services differently from 2014."