Stoke-on-Trent woman jailed for £80K 'cancer' fraud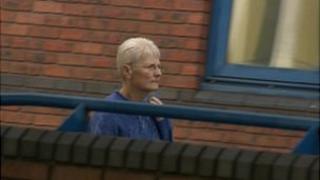 A woman has been jailed for cheating her employer out of thousands of pounds by falsely claiming she had cancer.
Catherine Moreton, 59, from Sharman Close, Hartshill, Stoke-on-Trent, received £80,000 over five years from cleaning firm Klean Kare.
She was jailed for two years at Stoke-on-Trent Crown Court after pleading guilty to two counts of fraud last month.
Moreton had claimed she needed the money to pay for cancer treatment.
She also pleaded guilty to one count of obtaining a money transfer by deception.
The judge described the case as "hugely troubling" and said that "a message has to be sent out that this type of behaviour cannot be countenanced".
'Unbelievable lies'
Moreton's employer, Beverley Lawton, said the impact of her lies had been more than financial.
"I've had panic attacks, I've always been a strong woman but it really affected me and she's done that to me," Mrs Lawton said.
"I hate her for it and the lies that she's come out with, it's just unbelievable."
Mrs Lawton said: "She came to me for a job and we got on very well and after a couple of years we became, I thought, best friends.
"She was upset for a little while and when I kept asking her what was wrong she told me she had this blood disorder and she mentioned cancer.
"She said she didn't know what she was going to do because she didn't have the money."
Mrs Lawton added Moreton told her she had a Bupa medical plan but it would not be enough "to pay for the treatment".
She offered to help Moreton and took out loans but these were repaid, the court heard.