£70m pledge to Stafford Hospital in University takeover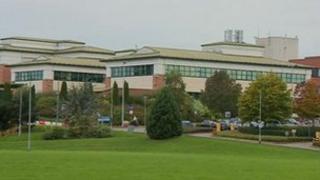 More than £70m could be invested in Stafford Hospital if it is taken over by a neighbouring health trust, NHS managers have said.
Managers at the University Hospital of North Staffordshire (UHNS) have also promised they will not cut services at Stafford if they take it over.
Trust Special Administrators (TSA) have set out plans to dissolve the trust and move services to nearby hospitals.
The public consultation into the plans finishes on 1 October.
The TSA announced recommendations on 31 July for Stafford Hospital to be part of the Stoke-on-Trent-based UHNS, with Cannock Hospital becoming part of the Royal Wolverhampton Trust.
The plans were formed after the Mid Staffordshire NHS Foundation Trust went into administration on 16 April.
Protest march
UHNS medical director, Robert Courteney-Harris, said: "Far from cutting services, we would invest some £70m in Stafford Hospital to bring it up to national standards.
"We need to make an investment in Stafford as that is where the majority of patients will continue to be treated.
"It's not fair that those in the north of the county have excellent facilities compared to their neighbours.
"However, it's also important to invest in facilities here in Stoke over the next couple of years as some specialist services would slowly move to University Hospital from Stafford, if the transition is approved by the Secretary of State."
The University Hospital announced in June it was facing a deficit of more than £31m by the end of the financial year because of the rise in A&E admissions.
It is planning to shed 400 jobs to help make savings of £22m.
Mr Courtney Harris said the UHNS should get more financial support from the government if it agreed to take on extra patients and services from Stafford but it was not for him to "speculate where all the money [for improvements] would come from."
Campaigners against proposals to downgrade services at Stafford Hospital are to hold a protest march through the town on Saturday.
About 30,000 people took part in the last march which was staged when Mid Staffordshire NHS Trust went into administration in April.