Stafford Hospital downgrade "flawed", says council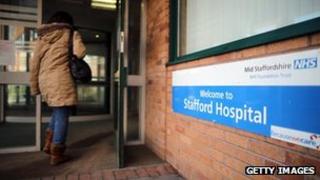 Plans to downgrade scandal-hit Stafford Hospital are "built on weak foundations", a council report claims.
The 26-page report from Stafford Borough Council also claims no safeguards for the hospital's long-term future have been laid out.
The authority has sent the document to Health Secretary Jeremy Hunt, urging him to consider the concerns.
Trust Special Administrators (TSA) have laid out plans to dissolve the trust and move services to other hospitals.
Protest marches through Stafford town centre were staged when Mid Staffordshire NHS Trust went into administration in April.
Under the TSA proposals, some of the trust's services would be taken on by nearby hospitals.
But the councillors' report also claims the TSA proposals would need "major additional investment," which they believe would force the hospital into private ownership.
The report says: "This investment could only lead to greater financial difficulties in the future and the risk that any acquiring trust will seek to reduce further or cease services in Stafford and sell off the site for capital gain."
The TSA said all responses would be considered for a final recommendation.
In a statement, it said: "All responses, providing that they are received before the deadline of midnight on 1 October, will be taken into account in the drafting of the TSA's final recommendations, which will be submitted to the secretary of state."
Administrators announced plans on 31 July for Stafford Hospital to become part of the University Hospital of North Staffordshire in Stoke-on-Trent.
The consultation period finishes on 1 October.