Stoke-on-Trent Spitfire project seeks lottery cash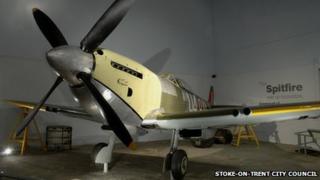 A project to restore a Spitfire is hoping to secure £25,000 of lottery money.
Organisers want to restore the plane, at The Potteries Museum & Art Gallery in Stoke-on-Trent, and create a replica cockpit which can be taken to schools.
Operation Spitfire, which was formed to collect money for the restoration, said it had raised between £50,000 and £60,000 over the past 15 months.
The Spitfire was designed by Reginald Mitchell from Stoke-on-Trent.
He was diagnosed with cancer as he started work on what was to become his best-known plane.
'Exciting place'
Mitchell died in 1937, just over 12 months after the Spitfire took to the skies. The aircraft went on to play a crucial role in the Battle of Britain in World War II.
His great-nephew, Julian Mitchell, said he was "immensely proud" of his illustrious relative.
He said the overall project included restoring "this wonderful Spitfire" and making the site "a vibrant and exciting place to go".
Mr Mitchell said: "What we want to do is to take this history and take it out to kids in school to say 'listen, there is this wonderful history there'.
"This is not just about fighting machines and war. This is leading-edge technology of its time and it came as a product of a man who was a product of Stoke-on-Trent schools."
Neil Gilson, from Operation Spitfire, said the Spitfire was "synonymous with obviously one of the greatest sons of the Potteries".
He said: "We do desperately want to reach out to the younger generation to create engineers for the future."
A spokesman for the project said he was "really optimistic" there was "a good chance" of being awarded the Big Lottery Fund money.