Postboxes stolen in Staffordshire 'for scrap value'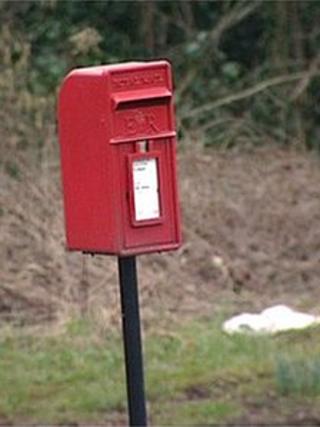 Five Royal Mail postboxes have been stolen from towns and villages in Staffordshire by suspected scrap metal thieves.
The cast-iron boxes on posts were taken over the past two weeks, Staffordshire Police said.
PC Hayley Eaton said: "They're being stolen for the price of the metal, they can be collector's items or sold for scrap value."
Royal Mail said it did not know how much post was in the stolen boxes.
The boxes were taken from Hulme End, Bottomhouse, Longsdon, Cheddleton and Mollatts Wood Road, in Leek.
Mike Norman from Royal Mail said anyone concerned letters they posted were in the boxes should contact customer services.
He said: "We apologise to any customers who have been inconvenienced by these thefts.
"We are working to replace the stolen postboxes as quickly as possible but in the meantime, customers can use others in the area or drop their mail off at any post office branch."