Wombourne Stonehenge wooden replica plan is abandoned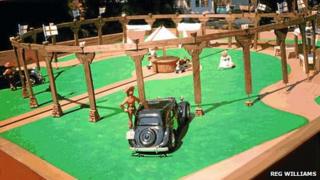 Plans to build a tribute to Stonehenge in a South Staffordshire village have been abandoned over concerns it would become a meeting point for drinkers.
Reg Williams put forward a design for a wooden version of the monument in the village of Wombourne.
He hoped to raise £6,000 from local residents to build the structure, which would have been 65ft (20m) in diameter and 9ft 10in (3m) high.
But people feared it would become an "arena for alcohol," Mr Williams said.
Mr Williams asked South Staffordshire Council for permission to use an area of their land to build the replica, known as Woodhenge.
'Bold statement'
Plans included 24 upright beams and crossbeams to provide an enclosure for a stone round table in the centre.
The council asked him to carry out a public consultation to see if the plan had support locally.
Mr Williams, who has served on the council since 1995, put a consultation document in Wombourne Library last month, along with a miniature version of his vision.
Nearly 150 people responded to the consultation, with opinion split down the middle.
"Sadly, people in the village thought the money could be spent better in other directions," Mr Williams said.