Stafford Hospital plans 'on weak foundations', says council report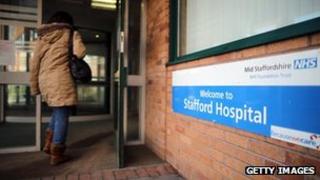 Plans to downgrade services at Stafford Hospital are "poorly judged" and "based on weak foundations", a report for Stafford Borough Council has said.
Trust Special Administrators (TSA) have said Mid Staffordshire NHS Trust should be dissolved, with some of its services being taken on by nearby hospitals.
Research by consultants Durrow for the council claims the TSA had not properly considered the plans' costs.
The TSA said all responses will be considered for a final recommendation.
In a statement, it said: "All responses, providing that they are received before the deadline of midnight on 1 October, will be taken into account in the drafting of the TSAs' final recommendations, which will be submitted to the Secretary of State."
The council said the report would be debated before being sent to the TSA.
Administrators announced plans on 31 July for Stafford Hospital to become part of the University Hospital of North Staffordshire in Stoke-on-Trent.
Births, child inpatient admission and hip fracture treatment would be among services which would be moved.
The 22-page report said the TSAs' "recommendations for maternity sit on weak foundations".
'Sold off'
It said because there were no safety or quality issues with the department it made no sense to close it.
The report also claims the TSA proposals would need "major additional investment" which could end with Stafford Hospital being "sold off".
It said: "This can only lead to greater financial difficulties in the future and the risk that any acquiring trust will seek to reduce further or cease services in Stafford and sell off the site for capital gain."
The report will be discussed by the borough council health scrutiny committee on Thursday.
Recommendations will be put before the full council on 24 September before being forwarded to the TSA as part of its consultation.
Leader of Stafford Borough Council, Mike Heenan, said he agreed with "everything in the report".
He said: "The TSA plans will cost many, many millions which could take more than 25 years to claw back... we suggest the best solution is to invest in Stafford.
"Investment will help our hospital attract patients back, who may have been put off by its past reputation, and therefore generate income.
"This will give it a better chance of balancing its books than the TSA proposals to reduce services; which will obviously reduce income and cost millions to be spent on providing the services elsewhere."
The consultation period finishes on 1 October.