Talke mining deaths memorial to be built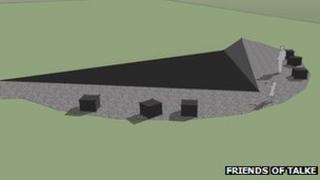 A memorial is to be built in a Staffordshire village to recognise people who died in mining accidents.
In a nine-year period between 1866 and 1875, 146 people were killed at two pits in Talke.
Andy Dean, from Alsager in Cheshire, who has conducted research into the incidents, has been granted planning permission for a memorial to be built.
He said the The Friends Of Talke group needed to raise about £20,000 to work on the project.
Mr Dean said there was one big disaster in Talke in 1866 in which 96 people were killed, but another 200 died over a period into the early 1900s.
He said: "We've given ourselves about six months to raise the cash [for the memorial] and a couple more months to get it built. So it should be up by the middle of next year."
The UK's worst mining disaster happened in Senghenydd, Glamorgan in 1913 when 439 men and boys perished in a gas explosion.