Bishop's Castle hotel owner withdraws clock chime request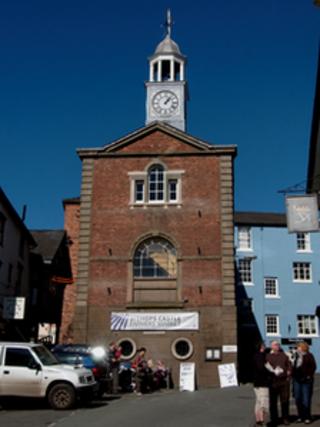 A hotel owner has withdrawn a request for an 18th Century Shropshire town clock to chime less regularly after his comments provoked "uproar" on Facebook.
Henry Hunter, the owner of the Castle Hotel in Bishop's Castle, said guests had told him the clock was keeping them awake at night.
The historic clock chimes every 15 minutes, 24 hours a day.
Town mayor Karen Bavastock confirmed the request has been withdrawn.
She said: "[The hotel owner] had had a few people comment that the bells were disturbing them and asked if there was anything we could do.
"We looked into it and it led to a bit of uproar and he has withdrawn his request. People are very fond of the bells and want them to continue."
Dozens of people took to Facebook to give their opinions about the request.
Among them was Martin James, who said: "People should realise tradition is something to be proud of and respected.
"Why tamper with a clock which, I suspect, has given sterling service for a couple of centuries?"
Mr Hunter has not commented on the withdrawal of his request.