Stoke-on-Trent children's hospice gets £500,000 revamp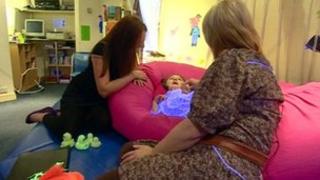 A children's hospice in Stoke-on-Trent is to get a £500,000 refurbishment after securing a government grant.
The Donna Louise Hospice in Trentham provides respite care for children ranging in age from newborns to 19.
The money has come from a Department of Health scheme which funds improvements to the physical environment of patients in hospices.
The hospice accommodates eight children full-time and also provides home support.
Melanie Williams, director of fundraising at the hospice, said plans included upgrading bedrooms and family accommodation.
"We've been open for 10 years, and if you imagine what your home is like after 10 years you know it needs some maintenance," she said.
"We also want to update the bedrooms to make it so teenagers feel comfortable as well as toddlers."
'Warm and inviting'
The hospice opened in August 2003 providing four beds, four days a week and is now open 24 hours a day, seven days a week.
Mrs Williams said: "It's been a long bidding process and we were over the moon when we knew we had the money.
"Going to a hospice can be intimidating for many children so we want to make it more warm and inviting.
"Practically, we need to do things about the infrastructure, the bedrooms can get very hot."
She said work would begin in two weeks during which the hospice and its services would remain open.