Staffordshire County Council to move more jobs to private firm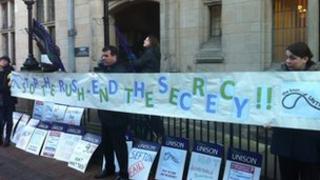 Plans to transfer an extra 300 council jobs in Staffordshire to a private company have been revealed.
More than 4,000 staff including school cooks, cleaners and caretakers were moved to a firm jointly run by Capita and the council at the start of 2013.
A new report shows the authority is now considering moving human resources, IT and finance staff to the company, which it claims will save money.
Union Unison said it feared services were being privatised by the back door.
Staffordshire County Council said it was looking at a number of options, which also included keeping the jobs "in-house" and offering its services to other organisations.
'Cost and accountability'
Council leader Philip Atkins said: "Rather than employing more staff to deal with our increasing workload, what we are having to look at is how we can help our existing staff and improve efficiency.
"Supporting a greater workforce would require capital investment by the county council but with this model we would bring in more private investment which would free our money up to invest in other services."
Mr Atkins said no jobs would be cut as part of the plans.
Steve Elsey from Unison said: "Public services are best delivered by the public sector for reasons of cost and accountability to taxpayers.
"It's of grave concern to us that the potential the county council has to shrink continues and the accountability of public services slides away."
A final decision on the plans will be made in December, the authority said.