Palace of Westminster Minton tiles return to Stoke-on-Trent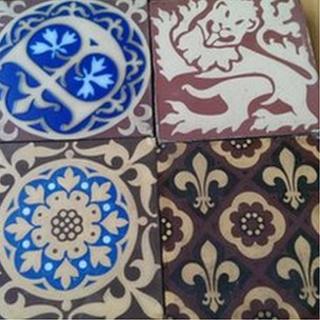 A collection of tiles made in Stoke-on-Trent more than 160 years ago which had been in the Palace of Westminster have been returned to the Potteries.
The 1850s tiles have been in Westminster since the palace was rebuilt after the Great Fire of London.
They were designed by Augustus Pugin and manufactured in Herbert Minton's London Road works in Stoke.
The 14 tiles are to be put on public display as part of the Potteries Tile Trail, a Heritage Lottery Fund project.
The Tile Trail celebrates the area's industrial past and the collection of architectural ceramics found in buildings and locations across the city.
'Major coup'
The patterns on the tiles are not made by the glaze but by different colours of clay, meaning the design remains as the tile is worn down.
Danny Callaghan organised the return of the collection after he found out tiles in parts of the palace were being replaced as part of a refurbishment.
"It's exciting and inspiring to see 'Stoke-upon-Trent' stamped on the back," he said.
"They have played their own small part in Parliament's illustrious history and have contributed to intriguing stories and events that span three centuries.
"However, these tiles also represent one of the most prestigious ceramic commissions in the world.
"The Palace of Westminster provided the single most important shop window, generating phenomenal international interest.
"It was also influential in the development of the 'Made In Staffordshire' brand value that still supports the pottery industry today."