HS2 Staffordshire protesters hold 10-mile march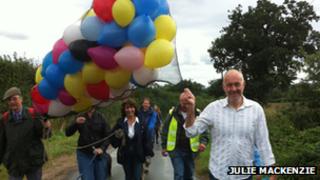 Up to 100 campaigners in Staffordshire held a 10-mile march to protest against the proposed HS2 rail route.
The march covered the proposed route of the high-speed rail line.
The proposed line would cut through Staffordshire farms and villages on its way between the West Midlands and Manchester.
Campaigners plan to use money raised from the march to fund a court battle opposing the HS2 scheme, which they fear will devastate the countryside.
Chairman of the StopHS2 group, John Saddler, said: "If the HS2 goes ahead through this route, our countryside would lose a lot of agricultural land, and all of this land would be lost forever."
Supporters of HS2 argue that aside from shorter journey times, the main argument in favour of the project is the need to greatly increase passenger capacity.