University Hospital of North Staffordshire facing bed shortage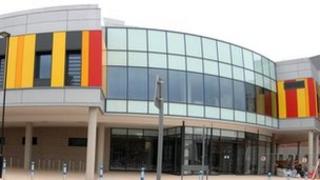 A Staffordshire hospital is facing a shortage of beds to treat patients this winter, a report has warned.
Figures show the University Hospital of North Staffordshire needs an extra 40 beds to deal with a rise in patients it treats from outside the county.
The report by the North Staffordshire Clinical Commissioning Group (CCG) said plans were in place to divert patients to community health services instead.
The hospital said it was confident its plans would meet "likely demand".
It opened an extra 100 beds at the start of this year because of a "sustained" increase in demand on its A&E department.
'Capacity gap'
It currently takes patients from North Wales and Stafford, when the town's A&E department is closed overnight.
The North Staffordshire CCG report said that £7.4m was being spent on community health services to ease pressure on the hospital.
It said: "Plans are in place to divert appropriate patients to the local walk-in centre instead of A&E and to shift the care of elderly and long term conditions patients from acute to community services.
"However, this still leaves a capacity gap of 40 beds at the height of winter even if all schemes deliver 100% impact."
'Increased growth'
But chief operating officer at the hospital Vanessa Gardener said: "The requirement for 40 additional beds was a very early estimate for our winter planning, which begins early in the summer.
"Since then our plans have evolved and we have worked hard to identify schemes that reduce this."
She added that it was now confident its plans would "meet the likely demand for our services throughout the winter".
But she said: "It is important people use local walk in centres or visit their GP, where possible, due to the increased growth in A&E attendances and admissions."