Stoke-on-Trent homes evacuated after gas cylinder fire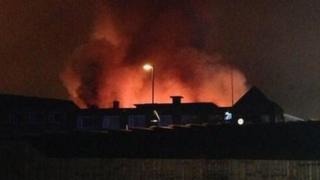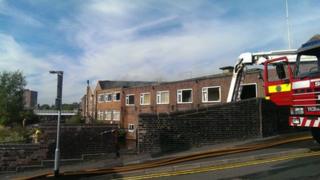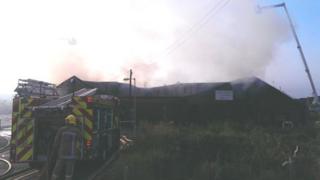 About 20 homes were evacuated after gas cylinders exploded during a fire at offices in Stoke-on-Trent.
Houses and flats near to the Astra Price office block in Eastwood Road in Hanley were evacuated after the blaze broke out at 03:00 BST.
At its height more than 30 firefighters tackled the fire which spread through two storeys and into the roof.
The blaze was brought under control by about 14:35 BST and the cause was accidental, the fire service said.
Staffordshire Police said families were found accommodation with friends and relatives.
But residents were allowed back home at 07:30 BST.
'Families back'
Eve Maley, who lives in the Eastwood Road apartments opposite, said: "It was awful, we heard explosions, things bursting and cracking and the smoke has been horrendous.
"The police were going round knocking on doors saying we had to evacuate the apartments and we stood outside not knowing what to do."
Mrs Maley said some of her neighbours had reported seeing windows blown out.
Simon Craythorn, from Staffordshire Fire and Rescue service, said: "There were a number of cylinders that exploded, so the decision was made to evacuate the closest premises."
Astra Price is an internet auction site seller specialising in electrical goods.