Plans submitted for 700 new homes in Uttoxeter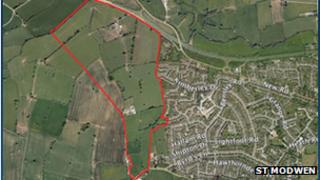 Up to 700 new homes could be built on the outskirts of a Staffordshire town.
St Modwen have submitted a planning application to East Staffordshire Borough Council to develop the site off Bramshall Road in Uttoxeter.
The plans also include a primary school, sports facilities, children's play areas and a small shopping centre.
The developer said it had changed the plans to improve cycle and pedestrian access and plant more trees, following a public consultation.
Martin Blencowe from the council planning committee said there was "recognition that there was need for growth in the town."
"The town centre is being redeveloped... and to support that we need people moving into the town both as residents and in employment."
He said the council would take any concerns from local residents into consideration before making any decision on the proposals.
The plans will be discussed at a date yet to be fixed, Mr Blencowe said.