Residents anger over 'death trap' doors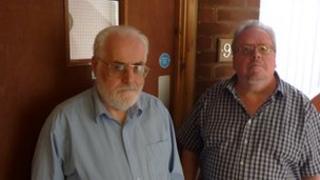 People living in council flats in Stoke-on-Trent say the city council have put people's lives at risk by installing faulty fire doors.
A report released by the authority last week showed foyer doors and front doors at 11 apartment blocks in the city do not meet fire safety regulations.
The council said the contractor, Kier Stoke, would be replacing them.
Residents said they had been campaigning for about two years because of concerns about the doors' safety.
New foyer doors and front doors were installed at Forest, Boundary, Southern, Brookfield, Robinson, Penkhull and Dibden Courts in 2011 as part of a £1.3m scheme by the city council and contractor Kier Stoke.
Graham Barrett, 62, who has lived at Southern Court for 13 years, said: "We didn't want these doors in the first place, they looked cheap and not fit for purpose.
"The door is a very heavy piece of wood... but if there was a fire the framework would burn away and the door would just fall down.
"If there was a death, the council would be liable, they're putting lives at risk."
'Start from scratch'
Along with another resident, Richard Snell, 67, he started a campaign to highlight their concerns about the doors.
"You've got doors that slam all day because they don't fit the frames properly, they don't have decent security and also the fact they don't protect you from fire - they are an absolute death trap," said Mr Snell.
"What they need to do is rip the whole lot out and start again from scratch," he added.
After they made their local Labour MP, Tristram Hunt, aware of the issue he ordered the city council to carry out an investigation in March.
The authority's report said 66 foyer doors did not meet the required fire resistance standard of 30 minutes.
It also listed a number of problems with the doors, stating many of them do not open and close properly.
Councillor Janine Bridges said: "The job was given to a trusted subcontractor that Kier Stoke uses to do interior refurbishment, and Kier have held up their hands to take full responsibility.
"They are going to pay for the replacement doors and what we're trying to do is put it right as soon as possible to reduce the chances of any of our residents being injured."
Kier Stoke have been unavailable for comment.