Rare superbug killed baby at Staffordshire hospital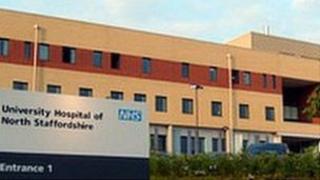 A premature baby died from a rare superbug at a Staffordshire hospital after it was passed on by "human contact", an inquest has heard.
Three-week-old Benjamin Brough was the second infant to die from Serratia Marcescens at the University Hospital of North Staffordshire (UHNS) in 2012.
Jessica Strong also contracted the fatal infection and died.
The coroner said he was "concerned" prevention control measures were not installed prior to Benjamin's death.
Ian Smith, the coroner for North Staffordshire, recorded a narrative verdict, saying Benjamin's death had been caused by "extreme prematurity and an infection".
A total of six babies at the hospital's neonatal unit caught the bug.
Staff upset
Lead doctor Kate Palmer said: "Maybe our practices were not as good as they should have been, because other babies caught Serratia."
She said: "The Serratia Marcescens was somehow passed around the unit by human contact but we don't know quite how.
"As a result, a complete overhaul of infection control made a lot of changes. This is now ingrained in everything we do."
Hospital staff told the inquest that "a sea change" took place following Benjamin's death, which saw the unit deep cleaned.
Other changes mean that all new babies are screened and isolated on admission. Gloves and aprons are used during all nappy changes, staff said.
Emyr Phillips, lead nurse in infection control, said: "Staff were very upset about what happened and were eager to look at all their practices."
Speaking after the inquest, Michael Brough, Benjamin's father, told the BBC: "It is heartbreaking, especially having two children at home, and seeing them grow up. That is one of the things that hurts the most."