Stoke-on-Trent food voucher project suspended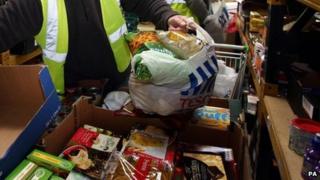 A project involving food bank vouchers being given to shoplifters by police has been suspended after the police and crime commissioner intervened.
The Sunday Express reported the vouchers were given out in Stoke-on-Trent to try to deter more food thefts.
Staffordshire PCC Matthew Ellis, said it was "absolutely not acceptable" for it to appear criminals were being rewarded for stealing.
He said he had suspended the scheme immediately and ordered a review.
Mr Ellis said he understood seven vouchers had been given out to criminals since the start of the project in March, so they could get emergency rations.
He said: "It's absolutely not acceptable that criminals should appear to be rewarded.
"It's not the case in this situation but that's what it looks like it and that's something I can't tolerate."
'Worth looking into'
In April, the Trussell Trust's Stoke-on-Trent food bank said it had been forced to ration food after a drop in donations.
The food bank said it was having to prioritise families with children under the age of 16 and people over the age of 65.
Earlier this year, it said it was looking for a new base because it could not cope with a big rise in demand.
Mr Ellis said the principle of giving vouchers to people so desperate for food they were driven to steal was "worth looking at".
However, he added: "It needs to be done by outside agencies who are there to deal with that sort of thing."