Stafford Hospital nurse gets 'direct line' for whistleblowers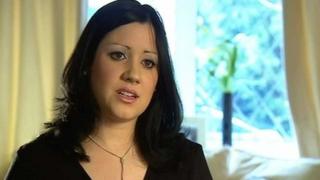 A nurse who raised nearly 100 complaints over the treatment of patients at Stafford Hospital has taken on a job helping other NHS staff raise their concerns.
Helene Donnelly turned whistleblower after she "saw people dying in very, very undignified situations which could've been avoided".
She also gave evidence at the recent Nursing and Midwifery Council panel into allegations of bullying against two nurses at the hospital.
Tracey-Ann White and Sharon Turner were struck off the nursing register by the panel for bringing their profession into serious disrepute.
Mrs Donnelly told the panel she witnessed the pair "bully" other staff at the hospital to falsify documents.
She spent six years as a nurse in Stafford Hospital's accident and emergency department.
Despite filling in numerous incident forms she said she has no indication these were read.
"Managers were just not listening and didn't want to know," she said.
'Fobbed off'
She broke down in tears when she was the final witness the Stafford Hospital public inquiry, in 2011.
Mid Staffordshire NHS Foundation Trust was the subject of the public inquiry, led by Robert Francis, after it was found poor care at Stafford Hospital could have led to the deaths of hundreds of patients as a result of maltreatment and neglect.
The trust went into administration on 16 April after a report concluded it was not "clinically or financially sustainable", with administrators recommending it be dissolved.
Now, as well as working as a nurse practitioner at a walk-in centre, Mrs Donnelly has become the "ambassador for cultural change" at the Staffordshire and Stoke-on-Trent Partnership NHS Trust.
"I've basically got a direct line to the chief executive himself, the chairman and the board," she said.
"So when staff raise concerns I can take them to the highest levels and they will be listened to and, where appropriate, acted upon and changes implemented."
Ms Donnelly said she knows full well how difficult it is for people to raise concerns and said there was "nothing like this [post]" when she was trying to voice her fears.
"It's very easy to be fobbed off, it's very easy to be told by senior staff that they are dealing with it, but then nothing happens and it seems to get lost or buried along the way," she said.
"You have to be quite tenacious and keep going back and checking that things are actually happening."
She also fears the consequences if staff aren't listened to.
"If action isn't taken then we'll end up with more Mid Staffs because it's naïve to think that it's only happened in Stafford - there will be pockets of this happening everywhere," she said.
'Being counted'
Mrs Donnelly's role came about when a helpline set up by the trust she works for received only "two or three calls" in a year.
She said: "It would be naive to assume there were only two or three people with issues - we have 6,000 staff in our trust.
"There will be people with concerns and we have to make sure they know how to access help, they feel confident about it and know people will listen."
Unless whistleblowers' concerns are seen to be acted on, Mrs Donnelly said she believed people would stop raising them.
"You don't mind standing up and being counted, you don't mind putting your head above the parapet, but if it ends up being for nothing then I think that's the hardest thing of all," she said.
Despite her frustrations from her past experiences, she said she was still "passionate about nursing and passionate about the NHS".
She said she hoped her new role would help bring about accountability, openness and honesty within the NHS.
"I think we must hold on to the NHS - we are so privileged to have it, and it's taking a battering at the moment," said Mrs Donnelly.
"I think people will only realise what we've lost when it's gone, so we cannot let that happen.
"We have to raise public confidence in the nursing profession and the NHS as a whole, but the only way that will happen is if people are made accountable when mistakes happen and there is openness and honesty."