Staffordshire's Wade Ceramics plans to build new factory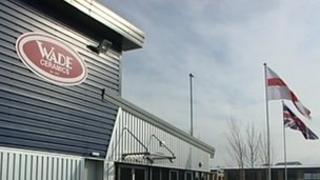 A pottery company plans to build a new factory after being given a multi-million pound government grant.
Wade Ceramics will build the new plant next to its current base in Etruria in Stoke-on-Trent, with its share of the £500m Regional Growth fund.
The company said it wanted to expand production "by up to 100%" and create "a number of new jobs".
Wade specialises in porcelain jugs and flagons for the spirits industry. It produces about 100,000 items each week.
Paul Farmer, managing director, said the ceramics market was growing in Europe and the US.
The company said it did not want to disclose how much money it was getting from the fund until the deal had been signed but said it was "in millions".
New local jobs
Mr Farmer said: "We would hopefully give ourselves an opportunity to increase production by anything between 80 and 100%.
"We don't have demand for that at the moment, but we can see it coming.
"It'll create a significant number of new direct and indirect jobs for the local area because all of our raw materials come from Stoke-on-Trent and the surrounding area."
The Duke of Kent opened the £7.5m factory in Etruria Valley at Festival Park in 2010.
The company moved to the site from its previous factory in Burslem, where it had been based for more than 150 years.