Stafford Hospital: MP presents 50,000-signature petition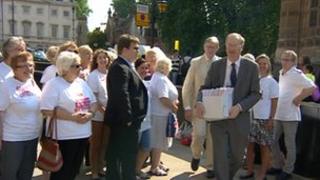 A Save Stafford Hospital petition containing 50,000 signatures has been handed to the government.
Campaigners from Support Stafford Hospital have been gathering support in a bid to keep it open despite the trust going into administration in April.
Conservative MP for Stafford Jeremy Lefroy handed the petition to the Speaker of the House of Commons earlier.
An administrators' report into its services is expected by 31 July.
'Deserve it'
As Mr Lefroy presented the document, Mark Saville, a nurse at the hospital, said: "What we want to happen now is for the hospital to retain its acute services, including paediatrics and maternity.
"I think that people of Stafford deserve it after what we have been through as a hospital."
The Mid Staffordshire NHS Trust, which runs Stafford Hospital, went into administration on 16 April.
A Monitor report published in February called for the closure of the hospital's acute services, including the A&E department.
Last week Health Minister Dan Poulter told the Commons that local MPs, healthcare providers and clinical commissioning groups would be consulted on any decisions affecting the hospital's future.