Is Stoke-on-Trent's 'six towns mentality' holding it back?
By Matt Lee
BBC News Online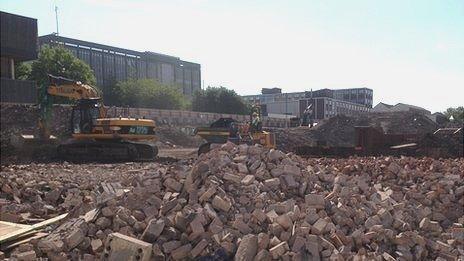 As a city, Stoke-on-Trent is in the unique position of being a federation of six towns - Burslem, Fenton, Hanley, Longton, Stoke-upon-Trent and Tunstall.
But while Hanley, which is also the city centre, buzzes with the noise of diggers working on its multi-million pound transformation, the five other towns claim they are being neglected.
It is part of a wider redevelopment of the city centre that began with the building of the £15m bus station and includes plans for new indoor shopping centre, City Sentral.
The protesters have been accused by the council of having a "six towns mentality", a blinkered outlook where they care more about their towns than the future of the city as a whole.
So does this so-called "six towns mentality" exist and is it holding the city back?
"It's been levelled at us a number of times and it's contemptuous," said Alan Barrett, who helped organise the protest march.
"We just believe the investment is completely lopsided - the council are taking facilities, amenities and services away from the five towns, where the people are who need them.
"The council believes the Field of Dreams quote, 'build it and they will come', but it's ludicrous - they're spending money on a business district in which not one business has shown even the remotest bit of interest."
Stoke-on-Trent City Council announced budget cuts of £21m in February.
'Incredible parochialism'
As part of its plan to regenerate the city centre, the council is also selling off some houses for £1.
It claims redevelopment will create 4,000 jobs and is not at the expense of the other towns.
Leader Mohammed Pervez said: "A strong vibrant city centre is needed to create the kind of growth that will change the fortunes of Stoke-on-Trent.
"This is not about us moving from Stoke to Hanley, but rather about regenerating the whole city area for future generations and creating jobs for local people."
Jon Fairburn, from Staffordshire University business school, believes the city council has "fuelled the six towns mentality" over the past 20 years.
"There had been a policy of spreading development thinly across the city, so each place got a bit, which breeds a mentality that all towns should be treated equally," he said.
"There is an incredible parochialism in the six towns from local residents and for them Hanley may as well be Paris.
"If they can do their big shop just up the road, they're happy."
One of those is David Harris, 52 from Tunstall, who said he "actively avoided" Hanley because "the market and local shops have all I need".
"There's a feeling that as long as Hanley thrives, the city as a whole will thrive and the other towns can die or just become giant housing estates. It's wrong," he said.
He is one of hundreds of people who use the busy 60-stall Tunstall market on a Wednesday, Friday and Saturday.
While the stalls seem to be trading steadily, empty shop units on the High Street tell their own story.
Father John Stather, the vicar at Christchurch in Tunstall, said the town had suffered because of cuts.
"We've lost the swimming pool, the Surestart centre went, the library hours have been reduced and care homes have closed recently.
"If one area is having disproportionate amounts of money put into it there has to be questions asked - all of us pay our council tax.
"If the new development does encourage investment into the city then fine, but there are big question marks."
However, Jon Fairburn is more optimistic.
"In the absence of any other blinding flash of inspiration, trying to build up the city centre is as good a strategy as any," he said.
"The city has to pull together to have a chance of working but that doesn't mean forgetting Burslem, Fenton or Longton - it actually means finding what their role is and realising a strong, healthy city centre is good for them and if it isn't, they'll suffer as well."
Related Internet Links
The BBC is not responsible for the content of external sites.