Stafford Hospital campaigner Julie Bailey sells Breaks cafe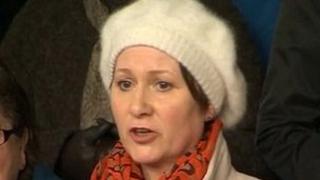 The woman who led the campaign to expose failings at Stafford Hospital has sold her cafe where the first meeting to tackle the NHS was held.
Julie Bailey founded Cure the NHS in 2008 after her mother died at the hospital, and held the group's first meeting at Breaks cafe.
She has said she wants to leave Stafford because of safety fears due to "lies" about her wanting the hospital closed.
The cafe closes on Saturday, she said.
New owners will reopen it next Monday.
'Retain independence'
A £13m public inquiry in February led by Sir Robert Francis QC found serious failings at the hospital.
It followed a 2009 investigation by the Healthcare Commission which found "appalling standards of care" at the hospital.
Ms Bailey said she wanted to leave the town as she did not feel safe any more.
She said: "It's really sad to be going under these circumstances... we've been driven out.
"This is what a small-minded town and small-minded people have done to us... I will be glad to be out of Stafford.
"But it's a fresh start, a fresh start for Cure the NHS and concentrating on that and holding hospitals to account."
Ms Bailey said she wanted to achieve charitable status for the group but was cautious about where the funding should come from.
"We've always funded things ourselves. I felt that was important, so I am cautious about where she get any funding from as we must retain our independence."
Earlier this month, she said many people had been "hostile" towards her and trade had fallen recently at her cafe.
Staffordshire Police has also said it was in "regular, ongoing contact" with Ms Bailey and was "aware of incidents where people have been abusive to cafe staff in person or made nuisance phone calls".