Couple in their 70s marry after 40 years together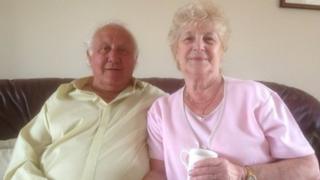 A 75-year-old man said he is "over the moon" that his partner of 40 years has finally accepted his wedding proposal.
Chris Green first bought an engagement ring for Ann Turner, 72, in 1975 but she refused to marry him.
The retired couple from Tamworth, Staffordshire, are now getting married on Friday.
Ms Turner said "the time was right" for the wedding now they are retired and their eight children have grown up.
Mr Green and Ms Turner each have four children from previous relationships who now have their own children.
He said he proposed "every week at one stage" and was "stuck for words" when she decided to accept.
"One day Ann said to me that she thought we ought to get married, so I got down on one knee in the pub and that's the last time I had to ask," Mr Green said.
"I was over the moon when she said 'yes'."
'Never had time'
Ms Turner said: "The time is right now, we're retired now and relaxed.
"With having eight children to bring up we just never had the time. I had two or three jobs at one stage.
"Chris is such a character, he's good fun and we have lots of laughs."
Mr Green said the couple met after his wife died.
"She helped me bring up four young kids, my youngest was 11 when my wife died.
"I don't know what I would have done without her."