Stoke Potteries Centre: Concerns over shopping mall row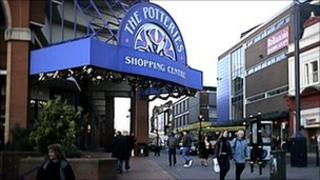 A councillor has expressed "dismay" and "serious concern" over a continuing shopping centre row in Stoke-on-Trent.
In November, the city council had said it could not sell land for an expansion of the Potteries Centre, due to a deal with developers of another mall.
Newly released documents showed there were no such restrictions on the land.
Opposition councillor Paul Breeze has written to the authority calling on them to release the Bryan Street site for development as soon as possible.
Realis Estates plans to build the £350m City Sentral shopping centre on the old bus station site in Hanley, about 500 metres (0.3 miles) from the Potteries Centre.
In November, the Labour-led authority refused to release land to Capital Shopping Centres (CSC) to expand the Potteries Centre because of an agreement with Realis.
It said: "[We] cannot sell the land on Bryan Street to CSC as this would in all probability be deemed as a breach of condition of the agreement."
'Create jobs'
In response to a Freedom of Information request, some of the details of the agreement have now been released.
Gerry Clarke, the council's principal solicitor for regeneration, admitted the agreement did not specifically prevent the council selling any of its land to a competitor.
Independent councillor Mr Breeze said it had "cast great doubt on transparency" at the council.
He said: "It poses the question of can the higher echelons of the city council be trusted?
"The Potteries development will create jobs and bring more people into the city, so I am calling on the council to release the land for sale."
In a statement the council said: "We have to act in the best interests of city residents and the public purse.
"If we followed the advice of Councillor Breeze, and this was then found to have breached terms in an agreement, we would have to consider the impact this would have on the city if financial penalties were incurred."