Stafford Hospital: Police investigate 300 'neglect' deaths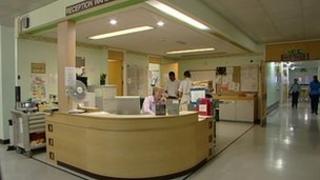 Police are investigating about 300 deaths at Stafford Hospital, after evidence showed they could have been caused by neglect.
Staffordshire Police have been reviewing documents from the Francis report, published in February.
The report looked at failings of care at the hospital between 2005 and 2009, which may have contributed to the deaths of hundreds of patients.
The force said it needed more time to "identify any need for prosecution".
Staffordshire Police said since the publication of the Francis report it had been one of a number of organisations working to identify the most serious cases.
The group includes the Crown Prosecution Service, HM Coroner's Office, Health and Safety Executive, Care Quality Commission, General Medical Council and the Nursing and Midwifery Council.
'Criminal charges'
The force said the group had identified between 200 and 300 cases "where alleged neglect may have contributed to a patient's death" and they were being thoroughly reviewed.
Assistant Chief Constable Nick Baker said: "This is a complex, large-scale review which needs to be detailed, thorough and sensitive.
"[The group] are examining whether or not there's any new information which has come to light which could lead to a previous criminal investigation being reopened or to an entirely new investigation.
"If we get to this stage, our next step will be to establish if there's any realistic potential for criminal charges and prosecution."
Staffordshire Police said it expected the investigations would take "many more months".
Maggie Oldham, chief executive at Mid Staffordshire NHS Foundation Trust, said: "We have met with the police and will, of course, continue to co-operate fully with the review."
Officers said one early outcome of the review was the Health and Safety Executive's decision to formally investigate the death of Gillian Astbury.
Ms Astbury died after going into a diabetic coma at Stafford Hospital in 2007.