University Hospital North Staffordshire facing £31m deficit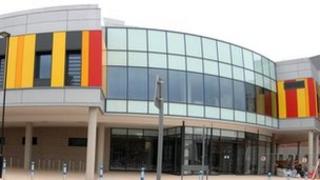 A Staffordshire hospital has warned it faces a deficit of more than £31m by the end of the financial year.
The University Hospital of North Staffordshire has blamed its rising debts on the cost of 10,000 extra patients attending A&E.
It said the rise had also increased pressure on inpatient wards and to help deal with the demand, it had opened an extra 100 beds.
Last month it announced plans to shed 400 jobs to help make savings of £22m.
The hospital said it would achieve cuts as far as possible by reducing the number of agency staff and removing vacant posts.
In papers due to go before its board later, the hospital trust said it would "fail to meet its statutory duty to deliver a break-even position".
It has written to the government asking for £37m in additional cash support.
'Uncertain time'
The hospital is one where patients from Stafford Hospital would be sent if plans to downgrade some of its services, including accident and emergency and maternity care, go ahead.
Ian Syme from the North Staffordshire Healthwatch watchdog said if the hospital did not get the money, the consequences would be "disastrous".
"It's a very uncertain time for the local health service because we don't know what's going to happen at Stafford Hospital," he said.
"This hospital is a keystone for acute services in the West Midlands and we know that other district hospitals can't provide what we do here."
The trust is paying about £50m a year in mortgage payments after it moved from three sites into the £370m City General hospital in March 2012.
It said it had been forced to reopen beds because a programme to treat more people in their own homes and at community health centres was "not being successfully delivered".
The hospital's finance director left in December, with former chief executive Julia Bridgwater stepping down in January.
New chief executive Mark Hackett will join the trust from the University Hospital Southampton NHS Foundation Trust in July.