Stafford Hospital campaigner Julie Bailey to leave 'hostile' town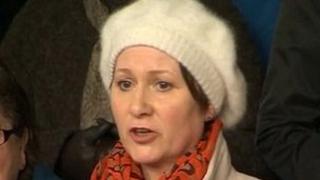 The woman who led the campaign to expose failings at Stafford Hospital says she is selling her cafe due to safety fears.
Julie Bailey, whose mother died at the hospital, said many people had been "hostile" towards her due to "lies" about her wanting the hospital closed.
A public inquiry in February led by Sir Robert Francis QC found serious failings at the hospital.
Ms Bailey said she felt in danger and planned to move away from Stafford.
'Lies spread'
She said: "I don't feel safe, to be honest, in Stafford anymore, it's very hostile. People coming up to me in the street saying I'm lying.
"The lies have been spread and unfortunately the people who don't know about me believe the lies."
Ms Bailey has decided to sell the lease for her cafe following a drop in trade over the past month.
She said people were boycotting her cafe.
She said: "It's a small number of people [that believe she is lying about the hospital], but it's very disappointing that they've taken this stance, that all we've wanted to do is make sure services are safe and sustainable."
"We've got fantastic support throughout the country, my house is just full of flowers, people from all over the country have sent me presents, and from Stafford."
Staffordshire Police said it was in "regular, ongoing contact" with Ms Bailey and was "aware of incidents where people have been abusive to cafe staff in person or made nuisance phone calls".
Patients betrayed
A force spokesman added: "This is obviously unacceptable and local officers are monitoring the situation."
In 2009, an investigation by the Healthcare Commission into the Mid Staffordshire Trust found "appalling standards of care" at the hospital.
The £13m public inquiry completed earlier this year concluded that patients had been "betrayed" because the NHS had put corporate self-interest ahead of patients.
Last month, paramedic Murph Guest was sacked by West Midlands Ambulance Service after comments appeared online expressing the hope that Julie Bailey would suffer "a life-threatening illness".
The service said Mr Guest would be referred to the Health and Care Professions Council (HPC) on charges of serious professional misconduct and he could be struck off if found guilty.
With the help of local people who had similar hospital experiences, Ms Bailey began the Cure the NHS campaign group in 2007, which is dedicated to making the health service a safer and more caring environment.
She said she would continue with the campaign, which she hopes will get charitable status, and will leave Stafford with her "head held high."