Lee Rigby to be named on Armed Forces Memorial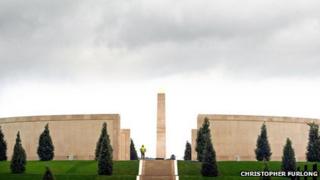 Murdered soldier Lee Rigby's name is to be included on a national memorial to fallen servicemen and women.
The 25-year-old was killed in Woolwich, London last week, close to the barracks where his regiment the Royal Regiment of Fusiliers, is based.
Two suspects shot by armed police remain under guard in hospital.
Armed Forces Memorial trustees said Fusilier Rigby's name would be engraved alongside others killed in 2013, at the National Memorial Arboretum.
The memorial, at the Alrewas site in Staffordshire, commemorates members of the armed services killed while on duty or through terrorist action.
In a statement the trustees, who are responsible for making decisions regarding the inclusion of names, said the work would be completed by mid 2014, in time for the annual service of dedication.
They said the families of those killed would be invited to attend, usually alongside a member of the Royal Family and senior members of the government and armed services.
Dedicated in 2007, the Armed Forces Memorial, is a tribute to the more than 16,000 servicemen and women who have died in action since 1948.
Last month, the names of the 53 personnel killed in 2012 were engraved on the memorial, with a service for families planned for later in the year.