Slurring Radio Stoke presenter Paula White taken off air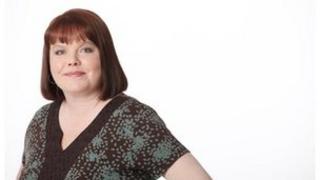 A BBC Radio Stoke presenter was taken off air after slurring and appearing to be drunk.
Paula White was removed after 30 minutes of her afternoon show on Friday, which was to be her last show in that slot.
She said on air that she had had a couple of drinks, but was not drunk.
A BBC spokesman said she had been "unable to continue as she was under par". The spokesman would not say if any other action had been taken.
Ms White had presented the 1pm-4pm slot for about six years.
'Done so much'
Shortly after the start of the show a listener sent in a text to say she sounded drunk.
"I have had a couple of drinks but I am not drunk," Ms White said.
She was replaced by another presenter after half an hour.
Fred Hughes, a columnist for The Sentinel newspaper, who said he was a friend of Ms White, said the incident should not overshadow what a great radio presenter she is.
"Paula has done so much for the community that I think it would be unfair if she was to be remembered for something like this," he said.
A BBC statement said: "Paula White was unable to continue on-air on Friday as she was under par.
"Fortunately, Denholm Siergertz was on hand to take over the show and listeners were able to enjoy the usual lively mix of chat and local news."
The BBC has not confirmed if Ms White, a broadcaster of more than 16 years' experience, will continue to work at Radio Stoke, or if any further action is to be taken.