Stoke-on-Trent homes for £1 applications close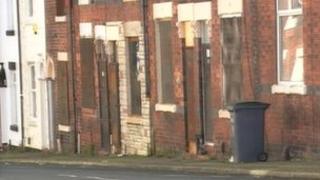 The chance for people to apply to buy derelict homes for £1 in Stoke-on-Trent ends later.
Some 35 properties are due to be sold in the first stage of a £3m city council project to revitalise the Portland Street and Bond Street areas.
The local authority said hundreds of people had shown an interest in buying one of the houses, with applications due to close at midday.
The houses are only being offered to people already living in the city.
Short-listing is expected to start this week and the local authority said the homes would be randomly allocated to the successful applicants.
Stoke-on-Trent City Council is also offering a £30,000 loan to allow people to make essential repairs, although that would need to be paid back within 10 years at an interest rate of 3% above the Bank of England base rate.
Most of the 35 properties are two-bedroom houses, although some are three-bedroom.
If successful, the local authority hopes to sell off a further 89 homes over the the coming years in a bid to regenerate an area where many homes, along with the local pub and shops, are boarded up.
Once the houses are sold, the city council said the project would look to improve the area, to try to "create a sustainable community".
Successful applicants will be expected to bring the homes back into use and live in them for at least five years.
If the house is sold within 10 years, a proportion of any profit must be paid to the council, on a sliding scale.