Prayers to 'reflect' on Stafford hospital scandal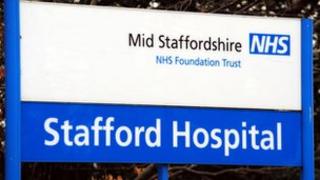 A service has been held to pray for those affected by the events at Stafford Hospital and to reflect on the future.
A public inquiry led by Sir Robert Francis QC found in February there had been "failings at every level of the NHS" surrounding the hospital.
The service at St Mary's Church in the town, will be led by representatives from several churches.
It aims to "bring the community together" to draw a line under events.
In 2009, an investigation by the Healthcare Commission into the Mid Staffordshire Trust found "appalling standards of care" at the hospital.
The £13m public inquiry completed earlier this year concluded that patients had been "betrayed" because the NHS had put corporate self-interest ahead of patients.
The service, which started at 15:00 BST, has been organised by Churches Together in Stafford.
Spokesman John Lotz said: "The Christian community want to help draw a line under the failures, misunderstandings, fears and anger of the past and help the hospital to move into a new future in serving the people of mid-Staffordshire."