Deal or No Deal winner Caroline Banana sentenced for fraud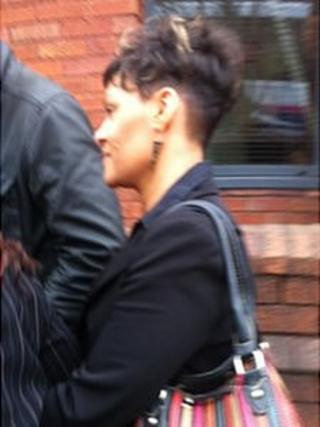 A woman who won £95,000 on the TV show Deal or No Deal has been ordered to carry out 215 hours of unpaid work after admitting benefit fraud.
Caroline Banana, 40, from Stoke-on-Trent, had admitted wrongly receiving more than £6,100 in housing and council tax benefits and income support.
Banana failed to declare her winnings from the Channel 4 game show and did not disclose that she had found work.
She received a 12-month community order at North Staffordshire Justice Centre.
Banana, who had found work including jobs at a chemists, hospital and doctors' surgery, falsely claimed the benefits between 28 March 2011 and 13 May 2012.
She also admitted falsely claiming free school meal allowances.
Banana, of Whitridge Grove, Bentilee, failed to declare her windfall from November 2011 to Stoke City Council and the Department for Work and Pensions.
Sentencing her, District Judge David Taylor told Banana she had brought the large amount of media attention the case had attracted across the world upon herself.
He said "any honest person" would have reported the game show winnings soon after receiving them and said he believed Banana's behaviour amounted to "a deliberate cover-up".
House in Turkey
"Any offence of benefit fraud is never victimless," the judge said.
"It harms every member of society who works and pays tax with the misfortune of having to claim benefit."
The judge said Banana had only pleaded guilty just before her trial last week and so only gave her "minimum credit" for that plea.
Banana was also ordered to repay £2,517 to the Department for Work and Pensions (DWP) and £3,794 to Stoke-on-Trent City Council.
She was also told to pay £350 in costs to the court.
Banana's solicitor David Green said his client would have to sell a £60,000 property in Turkey she had bought with her winnings in order to settle the debt.
Mr Green said Banana had shown "all remorse and shame" and job offers had been withdrawn after potential employers read about her case in the press.
Paul Shotton, city council cabinet member for finance, said ignorance about the benefits system was "no defence".
He added: "We take a very dim view of those who defraud the council, and we will prosecute wherever appropriate."