Restored bells St Michael's Church in Stone ring out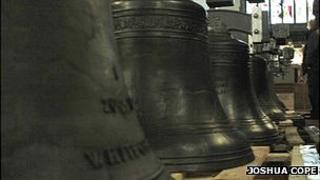 Four 18th Century bells have chimed for the first time at a Staffordshire Church after being restored.
St Michael's Church in Stone had the bells retuned and recast as part of a £130,000 project, after they became "more and more" out of tune.
The bells were rung, along with six new ones, at the Easter Sunday service.
The rector, Reverend Ian Cardinal, said: "To my ears, they have a musical tone but I suspect that's because they're now actually in tune."
He said the church had been without the bells since September and it was "wonderful" have them back.
The Heritage Lottery Fund and the North Staffordshire Association of Bell-ringers provided grants for the scheme which included mounting the bells on a steel frame.
Reverend Cardinal said: "I'm told they're an absolute dream to ring because they're now a bit further down the tower and easier to control.
"It's been fantastic to have them back again because it's such an important piece of heritage for the town."