Hazardous conditions in Staffordshire likely 'until Friday'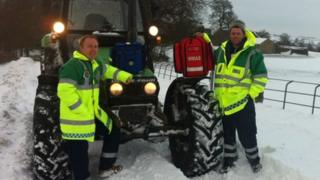 Freezing temperatures and hazardous conditions are likely to continue across Staffordshire until the end of the week, forecasters predict.
The Met Office said temperatures will hover below 0C until Friday.
About 40 schools in the county are closed because of the conditions.
Many roads and pavements in the county remain snow-covered and hazardous, including part of the A53 between Leek and Buxton which is closed.
The A53 is closed between the A523 Springfield Road Junction in Leek and the A54 Macclesfield Main Road junction, Buxton.
'Hair-raising' conditions
Snow and strong winds in the Staffordshire Moorlands over the weekend made "virtually all roads impassable even with some of the best 4X4 vehicles", according to the Flash and Longnor Community First Responders.
The team of volunteers, who have been trained by the ambulance service to attend emergency incidents, said that with the service unable to reach patients, it used a tractor to reach people.
Darren Barlow, a farmer in the village of Warslow, said he and responder colleague Adam Rowbottam were called to four incidents over the weekend, including a fall where someone had injured their hand and a vehicle stranded in snow in the early hours.
"The conditions were so bad here, there was no way to get round. Even with a tractor it was a bit hair-raising," he said.
Sandra Kaine, who lives near a Staffordshire village, is snowed in.
"I live just outside Hilderstone and the roads are blocked - nothing, including school buses, can get through," she said.
"Now the B5066 is closed we are effectively snowed in. We have a 4x4 so we can get out, just, but none of the roads are open so we won't be able to get anywhere."
She said some places in the area had seen snow drifts on 12ft (3.6m).
"I have seen snow like this before in the 1980s and 1990s, but people just aren't used to it now, " she said.