Owner's vow over Trentham Hall revamp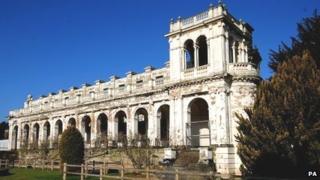 The owner of the remnants of a country house has reiterated its commitment to a £35m restoration project.
Property developer St Modwen said it remained committed to renovating north Staffordshire's Trentham Hall when economic conditions make the scheme viable.
Planning permission has been granted for a hotel project which would include work on the hall's main entrance.
Most of the hall was demolished in 1912 but its gardens were reopened in 2004.
'Last piece'
St Modwen, which bought the Trentham estate in the 1990s, said it continues to preserve the remaining parts of the Victorian hall.
The hotel project would see the renovation of the hall's main entrance, stables, courtyard and sculpture gallery.
North Staffordshire regional director at St Modwen Mike Herbert, said: "We have owned what remains of the hall for getting on towards 20 years and it's in exactly the same condition as when we bought it.
"Our original scheme was to restore the whole estate with the hall as the last piece of the jigsaw.
"Our planning consent is as a hotel and that is what we are looking at.
"Economically, it doesn't stack up at the moment but that doesn't mean we are not going to do it. One day we will."
The hall was remodelled and extended by architect Sir Charles Barry for the Duke of Sutherland in the 1830s.
More than 400,000 paying visitors each year go to the once-derelict gardens.