Mid Staffordshire NHS Foundation Trust board members quit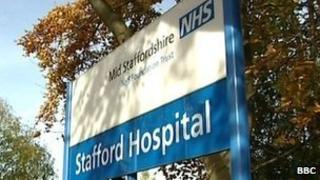 Two non-executive directors have resigned from the board of a health trust following a decision that it is to be put into administration.
On Thursday the regulator Monitor announced the administration process at the Mid Staffordshire NHS Foundation Trust was to begin.
Board members Eleanor Chumley-Roberts and Dr Lyn Hulme are stepping down.
Maggie Oldham from the trust said: "We would like to thank them for the service they have given."
The trust has been at the centre of one of the worst scandals in NHS history after neglect and abuse led to hundreds of needless deaths from 2005 to 2008.
It has also faced financial problems and got a £20m bailout from the government last year.
Challenging time
An independent administrator will take over the running of the trust before coming up with proposals for the long-term.
Ms Oldham, deputy chief executive at the trust, said: "The board wants to emphasise in the strongest possible terms that our focus remains on delivering care to our patients.
"We want to reassure our patients and all the local community that we will continue to put our patients first throughout this challenging period.
'We regret that the announcement by Monitor has resulted in the resignation of Eleanor Chumley-Roberts and Dr Lynne Hulme."