'Out of tune' bells replaced at St Michael's Church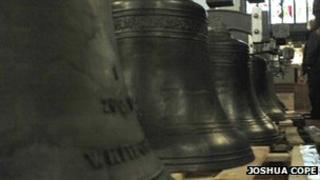 Four bells from the 18th Century are being put back inside a church after being restored.
St Michael's Church in Stone, Staffordshire, had the bells retuned under a £130,000 project, after being without them since September.
The four bells will return to use for a service on Easter Sunday alongside six new ones.
Spokesman Barry Smith said the replaced bells were getting "more and more" out of tune and could not be retuned.
"The casual passer-by would not have noticed perhaps, but it was clear from the ringers point of view they were getting more and more out of tune," he said.
"The wooden frame they'd been hanging from was moving and although the bells were safe, that needed to be replaced as well, with a steel frame."
'Town heritage'
Ringers and fundraisers were available to explain the project when the church held an open day on Saturday to show people the bells.
The Heritage Lottery Fund and the North Staffordshire Association of Bell-ringers provided grants for the scheme.
Mr Smith, who has been in charge of fundraising, said it was a "marvellous feeling" to have them back after they were away for more than four months.
He added: "We looked into the possibility of using a recording or getting some alternative but there wasn't anything suitable so we've just had to do without.
"People that have been married in church have not had the joy of hearing them ringing.
"It's really left quite a hole in the community of Stone not having the bells ringing out over the town... it's an important part of the heritage of the county and the town."