Harecastle tunnel offered for sale by the government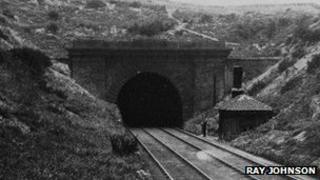 A disused Victorian railway tunnel in Staffordshire has been offered for sale by the government.
The Harecastle railway tunnel at Kidsgrove was built in 1848 and has been disused since the 1960s.
Railway historian Basil Jeuda said the tunnel was "an important link in the development of a national rail system".
The Department of Transport said a sale will only be made to "a public body" able to take on the maintenance of the mile-long tunnel.
Also included in the sale on the find me some government space website is almost 14 hectares (36 acres) of land around the tunnel.
Mr Jeuda, who has written books on the history of the North Staffordshire Railway, said the building of the tunnel was authorised by an Act of Parliament in 1846.
The tunnel closed in the 1960s because it was too small to allow the line to be electrified, he said.
A new tunnel was built to carry the electrified line.
Back to life
A Department of Transport spokesman said: "As a piece of railway infrastructure the Harecastle railway tunnel is subject to strict maintenance obligations and as such is not for sale generally."
It said that the department has not sold any disused railway tunnels in the past.
As well as the two railway tunnels there are also two canal tunnels in the Kidsgrove area.
A disused one was built from 1770-1777 by James Brindley, and another built by Thomas Telford which opened in 1827 and is still in use.
The charity Sustrans said it owns around 20 Victorian tunnels across the UK and has converted many of these into walking and cycling routes as part of its National Cycle Network.
Martyn Brunt from Sustrans, said: "It's fantastic to bring these robust old structures back to life to provide popular routes for walking and cycling.
"They link people up with their local towns, shops and workplaces helping us provide people with a healthy and green alternative to car travel."
Another disused Victorian railway tunnel under the Malvern Hills in Worcestershire is now home to colony of bats.