Burton-on-Trent drug raids: 13 charged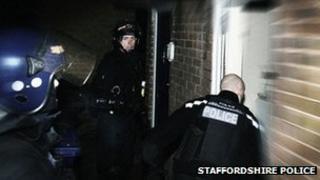 Thirteen people have been charged with drugs offences after a series of police raids in a Staffordshire town.
More than 250 officers were involved as properties were targeted in Burton-on-Trent on Wednesday.
Twelve men and a woman are due to appear before magistrates later, charged with supplying drugs including heroin, crack cocaine and mephedrone.
One woman remains in custody, while a man has been released on bail. Another woman has been released without charge.