Nantwich protest against abattoir horse 'abuse'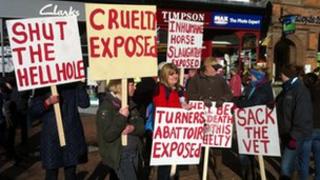 About 150 people have protested in a Cheshire town against an abattoir at the centre of an investigation into the abuse of horses.
The Red Lion Abattoir, near Nantwich, is being investigated by the Food Standards Agency (FSA) and the RSPCA.
The abattoir's owners High Peak Meat Exports said nobody was available for comment.
Protesters gathered in Nantwich town centre at midday, before travelling to the abattoir.
One of the organisers Jackie Jones said the group was calling for the closure of the Red Lion abattoir and a nationwide ban on the slaughter of horses and ponies.
"We are demanding love and respect for these lovely horses," she said.
The protest follows footage, taken by Hillside Animal Sanctuary, allegedly showing horses at the abattoir being beaten with sticks, a rope and iron rods to move them into metal pens.
Two slaughtermen have had their licences withdrawn by the FSA while the investigation continues.