Britannia Building Society: Unions disappointed at name change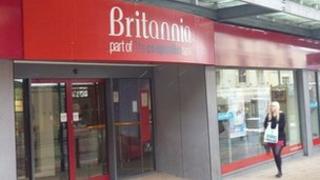 The union representing workers at the Britannia building society has said it is "disappointed" that the Co-operative bank is to drop its name.
The bank says the re-branding of about 250 Britannia branches will happen by the end of the year.
The Co-operative bank merged with the Britannia building society, which has its headquarters in Leek in Staffordshire, in 2009.
Staff in Leek would be unaffected by the latest moves, the Co-op said.
Chairman of the Britannia Staff Union (BSU), Adrian Northcott, said: "We are disappointed that the Britannia name, adopted in December 1975, is to eventually be removed, however this has been widely anticipated since the Co-operative merger."
The company said although Leek was unaffected by the latest plans, 80 jobs were still being cut there, because of restructuring which been ongoing since November.
A spokesperson said: "This does not mean that all affected staff will exit the business, some will move into new roles or be redeployed where appropriate."
The bank said those jobs were separate to the 130 jobs losses that were announced in March 2012.
The BSU said while consultation over the job cuts was on-going it would be "inappropriate to comment."
'Losing its heritage'
Karen Bradley, Conservative MP for the Staffordshire Moorlands said she was reassured that the company was committed to the Moorlands.
She said: "I spoke to the chief executive of the Co-operative this morning who told me Leek is, and will continue to be, the centre of excellence for mortgages and other products, an area the business wants to grow."
As part of the moves the Co-operative will close 37 branches across the country, with the loss of 34 jobs, mainly at managerial level.
The Mayor of Leek, Pam Wood, said she felt the town was losing part of its heritage with the rebranding.
"Over the years people have come to think of the Britannia as their own and joined up because it was a local firm," she said.
"A lot of jobs have gone from Leek already with many people going to work in Manchester instead.
"This makes me worried about the future, that in the end there won't be any jobs left in Leek."
The Co-operative bank said that the name change would not affect its current contract with Stoke City football club, regarding sponsorship of the Britannia Stadium.
A spokesman said: "The changes we have announced have no impact on our current contract with Stoke City regarding sponsorship of the Britannia Stadium which runs up to the end of the 2013/14 season."