Burntwood man and disabled son left without heating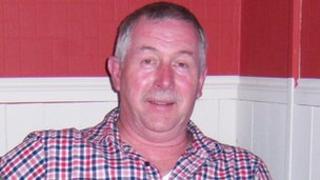 A man and his disabled stepson were left without heating for more than a week at their Staffordshire home.
Bromford Housing tenant David Handley, 52, from Burntwood, near Lichfield, said his boiler was switched off on 16 January after engineers found a fault.
He said he had to put his 40-year-old stepson, who has a severe learning disability, into respite care because the temperatures were "unbearable".
Bromford Housing apologised and said the fault was fixed on Thursday.
Mr Handley said: "I think it's downright disgusting that I've been made to wait so long."
He said his stepson, Scott Reece, whose mother died in October 2012, could only get respite care during the week, so had to stay in the house at the weekend.
He said: "I had to wash my son without hot water in a freezing cold room.
"He was shivering and shaking and then I had to try and keep him in the living room where the heaters were so he could stay warm."
'Thorough investigation'
He said the housing association had given him two electric heaters but he had to switch them off at night because of the danger to his stepson.
He said: "I couldn't keep a heater on all the time because of the risk of him sitting on it and killing himself or causing a fire."
At night the temperature in the house dropped to -3C (27F), according to Mr Handley.
He said gas engineers told him they struggled to get replacement parts for the boiler delivered because of the snow and, on one visit, they brought the wrong part.
Bromford Housing said it would be conducting "a thorough investigation" with its gas contractor.
Julie Walker, of Bromford Housing, said: "No-one should have to face a loss of heating during a particularly severe cold snap.
"We have been in contact with Mr Handley and have offered him compensation, covering the costs of his son's respite, the running costs of temporary heaters and the distress caused."