Staffordshire gritters out after snow and ice warning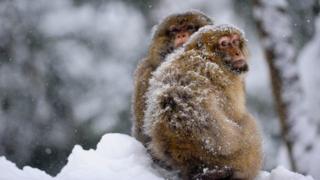 Gritting crews are continuing to treat roads in Staffordshire after falling temperatures overnight.
Staffordshire Police warned drivers to take extra care on the roads because of ice and slippery conditions.
Both Stoke-on-Trent City Council and Staffordshire County Council said gritting teams had been working around the clock.
The Met Office said a severe weather warning was still in place, with temperatures at about 1C (34F).
Stoke-on-Trent City Council said its gritting teams had spread about 160 tonnes of salt a day since Friday.
It said it had "ample supplies" to deal with any more bad weather.
First Bus said all but seven of its services were running as normal.
'Like a ski slope'
People living on Bilton Street in Stoke-on-Trent claim they have been left stranded in their homes because of the snow and ice.
Pensioner Pam Smith said she was scared to go out because the pavements were too slippery.
She said: "It's just too icy for us and if someone was to fall and break their arm or leg, that could be the end of them."
Carol Wright, who works at The Albert pub nearby, said because the street was so steep it "was like a ski slope".
She said: "We have been to help some people, to get shopping in for some of the pensioners, but it's a problem that happens every time we get snow.
"Last year we cleared it ourselves but conditions have been more difficult, so we've asked the council for help."
Stoke-on-Trent City Council said it was alerted to the problem on Tuesday.
It urged residents to use salt from grit bins to treat the roads and footpaths in their area.
Trentham Monkey Forest said it had to change the way it fed the Barbary Macaques that live there, because of the bad weather.
Manager Matt Lovatt said: "They normally like to forage for the wheat and fruit we give them but we've had to give them a helping hand to find it by clearing snow away."
He said they had no problems living outside in the cold weather because they come from the mountains in Morocco and Algeria, where snow does fall.
"They aren't housed for the winter although many people think they are because they are quite a temperate species and grow a thick winter coat," he said.
The Monkey Forest is closed to visitors between November and February, when routine maintenance is carried out.