Prince Charles visits Middleport Pottery factory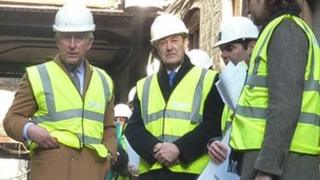 The Prince of Wales has visited the last working Victorian pottery factory in Stoke-on-Trent, which his charity is helping to refurbish.
The Prince's Regeneration Trust is spending £8.5m to revamp Middleport Pottery in Burslem.
The trust is putting in new workshops, community and education spaces, a cafe, gallery and a visitor centre.
Prince Charles met project engineers and staff from Burleigh china, which has been made at Middleport since 1888.
Among those was Shirley Davies, who said she was so nervous at meeting the Prince she "barely slept a wink all night."
She said: "I didn't want to fluff my words, that's the only thing I could think about. I was so nervous.
"He asked me what I was doing, and I explained my job is preparing the biscuitware before it gets sent upstairs for decoration."
'Real commitment'
The Prince toured the old Victorian offices and looked at the original bottle kiln - which is also being refurbished.
It was the second time he had been to the factory after visiting in 2011, the year the trust acquired the building.
Gary Biggs, who is the managing director of Denby Pottery group - which owns Burleigh china - said the Prince showed a "real commitment" to the site.
He said: "He was determined the factory wasn't going to be flattened to the ground. He wanted to preserve it in its current form.
"We're now partners to preserve the future of this site and the traditional working practices that go on with it."
The factory currently employs 50 people and the trust said it hoped to create another 50 jobs and increase visitor numbers following the refurbishment.
The trust said additional money for the project has come from a range of sources including Stoke-on-Trent City Council, English Heritage, the government's Regional Growth Fund, the Heritage Lottery Fund and private donations.