Gritters out in Staffordshire after ice warning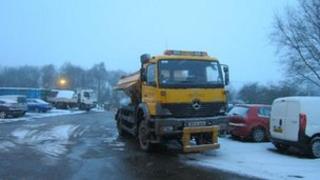 Gritters will be out in force across Staffordshire overnight with warnings of ice for the county on Tuesday.
Staffordshire Council said its fleet would work through the night and it had an online map to show gritted areas.
Stoke-on-Trent City Council said it was expecting temperatures to drop to -4C (25F), and its gritters had been fitted with snow ploughs.
The authority was criticised by drivers on Monday for "appalling" gritting operations in parts of the city.
Tim Whitehurst from Eaton Park said it took him an hour to travel three miles (5km) to work on Monday morning.
He said: "I know the council has got a tough job and I don't know if this bad weather was predicted but it's clear they weren't ready for it."
Yellow Ice warning
Ruth Rosenau from the council said: "The weather forecast had predicted light flurries of snow through the early hours, however, at around 05:30 GMT on Monday, we had half an hour of relatively heavy snow.
"This unfortunately fell on roads that had little traffic on them at that time of the morning and because the grit salt which had previously been put down needs traffic in order to be effective, this caused some problems on main roads."
The council said its fleet of gritters would be out throughout the night treating main roads and major bus routes.
"We have plenty of salt and as well as clearing the roads we are also busy refilling 450 grit bins which residents can use to treat roads and footpaths," Ms Rosenau said.
The Met Office has issued a yellow ice warning for Staffordshire but said temperatures should rise slightly through Tuesday.
First Bus said it would review road conditions on Tuesday morning before deciding whether to make changes to its timetable.
Stoke-on-Trent City Council said it would collect the bins from 17,000 homes on Friday and Saturday, after cancelling collections on Monday.
A further 6,000 homes would have their bins emptied next Monday, the authority said.